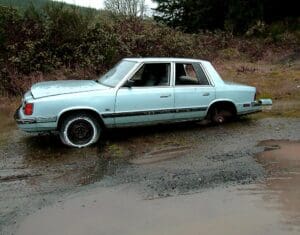 We Pay Cash for Flood Damaged Vehicles
Do you own a flood damaged vehicle? There is no denying that water damage to a car, van, truck or SUV can be devastating, and make it hard to sell it down the line. After a flood, your car may seem to be running fine, but in the long run, critical parts can be corroded, and lead to expensive fixes in the future. For this reason, selling a flood damaged car, van, SUV or truck may be difficult, but luckily, Cash Auto Salvage will buy your car regardless of condition, make, year, or model. Not only do we want to buy your car, we will pay you the most money for it, even if it is having electrical or mechanical problems.
We'll Buy Your Water Damaged Car
Many people are hesitant to buy vehicles damaged by floods, and for good reason. Corrosion and water damage can wreak havoc on electric and mechanical systems in a car. We're not concerned if the vehicle's title has a "Flood" or "Salvage" stamp associated with it, simply because we're not looking to flip it for a profit. Rather, we will recycle and salvage the flood damaged vehicles, and dispose of it in ways that are environmentally sustainable. Recycling your water-damaged truck, van, SUV or car helps to reduce the amount of new materials needed to produce new goods, which in turn lowers the amount of energy consumed to create products.
Advantages of Working with Cash Auto Salvage
Any vehicle, anywhere – We have a large network of auto junkyards and salvage yards across the country, which guarantees we'll be able to buy your vehicle. No matter what shape the car is in, we will buy it and give you good money for it.
Getting a quote is easy – Simply call 1 855-540-4649 to receive your instant, free quote today.
Best money for your vehicle – We mean it when we say we will give you the best deal. To make it even better, we won't charge you towing fees, so you go home with whatever price we quote you for.
No need to shop around – Your time is precious, so we make our services quick and easy. With same day service and pickup, we can give you a quote in the morning and retrieve your vehicle in the afternoon. This means cash in your pocket and one less object taking up space in your yard or driveway.
Get your money on the spot – When we come to take your vehicle, we will pay you for it, right then and there.
Receive Money for Your Flood Damaged Vehicles
Your Instant Quote is a Call Away. Dial 1 855-540-4649 today.
We Tow Your Car Away for No Charge
Receive Your Cash on the Spot for Your Flood Damaged Vehicles
Photo Courtesy: https://www.flickr.com/photos/curtisperry/