Cash Auto Salvage Buys Work Trucks Across the USA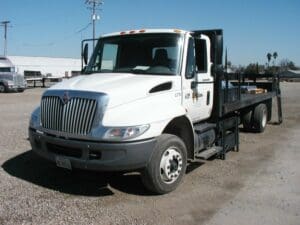 Is your work truck's performance starting to go downhill? Is it running like a clunker instead of a well-oiled machine? Are you thinking about selling it, but not sure where to start? Cash Auto Salvage will give you the best price for your used, unwanted or inoperable work truck. Not only will we pay you top dollar for it, we will even pick it up for free.
Hard to believe? We're not about games or gimmicks. Our business is simple: we buy unwanted or used vehicles regardless of condition, year, make or model and pay the best money for it. We are an auto recycling and salvage company with a wide-reaching network of national junkyards and auto salvage outlets that provide you with reliable and timely service.
Sell Your Work Truck with Cash Auto Salvage
Every junkyard claims to pay the most cash for cars, but we actually do. We want your vehicle whether it's been used to haul hay or tote around lumber. We're not interested in paying you a fraction of what your truck is worth and then flipping it to make a profit. We want to give you the service and money you deserve.
Benefits of working with us include:
Get the best deal in the least amount of time – No need to shop around for the best deal, you've already found it. With our same day service, you can receive your quote in the morning and in the afternoon you can have more cash in your pocket and free space in your garage or yard.
Location doesn't matter – We work with junk and salvage yards across the United States, so we can guarantee to buy your vehicle.
No towing fees – Some of our competitors charge to pick up your junk cars. We don't.
Getting a quote is easy. Simply give us a call at 1 855-922-3095.
We're environmentally-friendly – We recycle and salvage all vehicles in ways that are ecologically friendly, disposing of chemicals and parts properly so you can rest easy knowing your car isn't becoming a leaky eyesore in a junkyard.
Quick cash – We pay on the spot for all vehicles we buy. The price we quote you for is the amount you'll have in your wallet when your work truck leaves your lot.
Top Dollar for Your Used or Unwanted Work Trucks
Call 1 855-922-3095 to request your instant quote today!
We Pick Up Your Vehicle for Free
Get Paid on the Spot for Your Work Trucks
Photo Courtesy: https://www.flickr.com/photos/[email protected]/