Cash In on Your Not Running or Wrecked Vehicle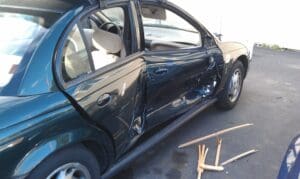 Do you have a not running or wrecked vehicle taking up unnecessary space on your lawn? Has your once trusty car developed engine problems?  Want to get rid of it, but have no idea where to start? Cash Auto Salvage will buy your unwanted, inoperable vehicle, give you the money you deserve for it, and tow it away for free.
Sound too good to be true? Games and gimmicks aren't our thing. Selling a junk car shouldn't be a complicated task. That's why we buy unwanted, used, wrecked and not running vehicles regardless of make, model, year, or condition. We're dedicated to providing timely, great, and dependable service.
We'll Buy Your Wrecked or Inoperable Junk Car
Why choose Cash Auto Salvage? Simple: we're not interested in paying the minimum amount for cars, then flipping them for a profit. With our extensive network of junkyards nationwide, we can guarantee to buy your vehicle, no matter where you are located. There are hundreds of auto salvage companies across the United States. Everyone promises to give you the most cash for your car, but we actually do. If you're looking to put some extra cash in your pocket and free up some much needed space in your yard, there is no better time than the present to sell your junk car to Cash Auto Salvage.
We'll provide you with:
Saved Time – Why shop around for the best deal when you've already found it? We provide same day service, which means you can request a quote at breakfast and after lunch have more cash in your wallet, and one less thing to worry about.
Guaranteed Service – We have built a solid network of auto salvage and junkyards nationwide, which ensures that no matter where you live, we can buy your car.
Saved Money – Other companies charge for pickups. We don't.
Reliable Service – We'll make it easy to receive a quote and be on your way. Request an online quote or give us a call at 1 855-922-3095, and we'll give you your quote so you can be on your way.
Peace of Mind – The last thing we want is to create another long-term eye sore in a junkyard, so make sure to salvage and recycle all vehicles in an ecologically-friendly way.
Fast Cash – The price we quote you for is the amount we pay you on the spot for your used, wrecked or not running vehicle.
Receive Top Dollar for Your Totaled Vehicle
Call 1 855-922-3095 to Receive an Instant Quote Today.
A Trained Technician Will Pick Your Car, SUV, Truck or SUV for FREE!
Get Cash on-the-spot at pick-up