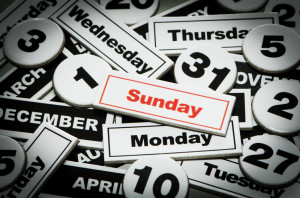 If you need the services of a junkyard, the first thing you should consider is whether or not they're open. Many junkyards aren't open on Sunday, meaning you'll have to wait. But at Cash Auto Salvage, this isn't always the case. Read on to learn more about Sundays at Cash Auto Salvage and how we go the extra mile to keep you happy.
Sunday Junkyard Operations
Because Cash Auto Salvage oversees junkyards in hundreds of cities all across the US, each junkyard has different demands to meet. That means some of them are open on Sunday and others aren't.
However, we appreciate how important your reasons may be for visiting a salvage lot. As such, we'll always do our best to help you scrap your car on a Sunday.
If the junkyard near you can't pick up your vehicle on a Sunday, we will make a special effort to be there for you on Monday. But please give us a call and we'll see what we can do.
Prior to Visiting
Fortunately, we can often handle a lot of your needs without having a nearby lot open. If you can give us a general description of your vehicle, we can provide you with a quote over the phone. Call 855-922-3095 or fill out our online junk car value calculator for a free cash offer!
Picking Up Your Vehicle
If our quote is to your satisfaction, a representative from Cash Auto Salvage Lot will come pick up your vehicle at a time that is convenient for you and wherever you like. Our tow truck can haul away, cars, trucks, SUVs and vans, so whatever type of vehicle you have will not be an issue.
Pay
Then all we need from you is your keys if you still have them. Of course, we'll provide you cash on the spot. Of course, we can provide you with a money order or check too. Whatever you prefer! That's really all it takes to get paid for that vehicle you no longer need.
Makes and Models
As we mentioned, we'll buy any type of vehicle out there. We'll buy it in any condition too. This is why so many people prefer selling to us instead of selling to a dealer or someone else. We're not picky!  Plus, we pride ourselves on paying the most cash for junk cars.
No Keys? No Problem!
We understand that if it's an especially old car or been no use to you for a while, you may not have the keys anymore. This isn't a problem. All we need from you is a copy of your license or some other valid form of ID and a copy of the vehicle's registration (whether current or expired). We don't even need you to have the title.
So while we can't always promise we'll be open on Sunday, we'll do everything we can to accommodate your needs. Call us to confirm and we'll find a way to work something out.